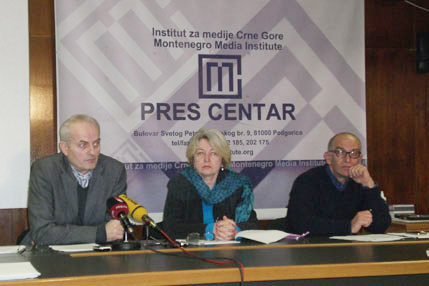 Following the presidential elections, several Montenegrin private media have been placing information on alleged irregularities, abuses and malversations related to the electoral process to the Montenegrin public. Unfortunately, instead of helping establish the whole truth via professional journalistic procedures, these media – the leading among them being daily 'Dan' – have deeply entered the zone of violating basic professional standards and Codex of Journalists, primarily through violating privacy by publishing identification numbers of citizens, failure to publish rebuttals and by entirely ignoring the basic journalistic rule to hear the other party as well.
Media Self-Regulation Council (MSS) believes that placing false and unverified information is utterly unprofessional and socially irresponsible, especially concerning such politically sensitive post-electoral period of time when the authorities are trying to establish the validation of official complaints.


Media Self-Regulation Council condemns the editorial procedure of daily 'Dan' which, on several occasions, violated both the law and the Codex of Journalists by publishing personal data of the citizens, while exposing certain citizens to public accusations through unsubstantiated media constructions on illegal behaviour of participants in the electoral process. Through publishing of unverified facts, devoid of professional obligation to establish their veracity, this daily denigrated and offended a large number of people who participated in the electoral process. Promoting the practice that everything is allowed in journalism if end justifies the means can lead to the consequences which have no relation to the authentic mission of journalism.


Within the period from April 7th, Media Self-Regulation Council has received a series of citizens' complaints to the work of media, primarily concerning the editorial policy of daily 'Dan'. The number of these complaints about violation of basic rights of citizens motivated MSS to react past regular reports, considering this phenomenon to be taking its toll and believing that the citizens must not suffer consequences and fall victim to editorial policy of sensationalism or to politically biased journalism.


In this manner Media Self-Regulation Council aims at condemning this type of journalism which is not only unprofessional and illegal, but it also represents open public manipulation for the sake of interests which has nothing in common with journalism and freedom of speech. We remind that "facts are inviolable to a journalist, and it is his obligation to place them in regular context and to prevent their abuse, regardless of whether they are related to text, picture or sound. Rumours and assumptions must unequivocally be indicated as such… It is a journalist's obligation to amend and correct the incorrect information, especially concerning possible harmful ones, while respecting the rule that the correction must be indicated in an appropriate manner".


Ranko Vujović
Executive secretary
Media Self-Regulation Council